I will thoroughly clean your dryer vent and/ or your air duct system to make it healthier and easier for your family to breathe the air in your home or business.
Please note that California Air Duct Cleaning does *not* engage in telemarketing, and we do not have a 415 or 800 phone number. Some company using a name similar to ours is phoning people and bothering them, but I can assure you it is not us.
My customers are happy! Read some of the reviews below, left at Google Places and at Yelp too…
Don't just think of our service as dryer vent cleaning.
We also provide you with safety and fire prevention, and we are an authorized dealer of In-O-Vate Dryer Products.
We Carry The DryerFlex Hoses

The Dryer Flex hose is the perfect combination of fire resistance and flexibility, and allows for maximum airflow & efficiency.
The hose itself has been lab tested stand up to fire up to 480° with zero flame spread with the extra time the dryer flex can give you in case of a dryer fire, it just could save your life.
Appliance manufacturers have very specific requirements when it comes to connecting their dryer to your in wall home exhaust system. Because we are UL listed, UL 2158A listed, you won't be voiding the manufacturer's warranty on your dryer.
No matter how you have the hose bent we always maintain a 4 inch diameter and it doesn't have to be cut for installation. If you have to pull your dryer away from the wall any excess hose moves with your machine instead of having to disconnect and reconnect the hose.
Dryer Wall Vent

The Dryer Wall Vent adds efficiency, safety, and style to any property. With clean lines, a low profile, and powder-coated colors, the Dryer Wall Vent blends in to any exterior, making it a sleek and stylish addition to any home or multifamily property.
Small birds and rodents are attracted to warm dryer events and will often build their nests inside the vents.
Help keep critters out with the Dryer Wall Vent's lightweight damper, which only opens when the dryer is running, allowing your dryer to perform at peak efficiency.
The patent pending integrated magnets work with the gravity damper to stay closed when the dryer is not in use, protecting against pesky animal entry.
Made in the USA using deep-drawn, heavy gauge galvanized steel, the Dryer Wall Vent is built to last. Home buyers see the strong attention to detail and high quality of the Dryer Wall Vent as an example of quality construction and better home performance.
Add the Dryer Wall Vent to new construction or renovation and become the homeowner's hero.
Google Reviews:
I'm very happy with his business. He came and cleaned my dryer vent same day that I called him. He is great communication and explained me very clearly. (I'm deaf) He is very honest person about his business. I will continue to have him back in the future.

Sheryl Atchison


7/17/2020

This is awasome.

Antoinette Adams


4/24/2020

Called Randy for dryer vent cleaning. He was very quick to respond to my voice message. My dryer vents through roof. I couldn't believe how much lint was in it. Randy is a great guy, thorough and friendly. I will call him for all my vent cleaning needs. I highly recommend him!!

Kat Kiraly


10/10/2019

Randy did a great job. He was timely, he communicated well and he was very informative to a first time home buyer.

Dustin Dietel


4/23/2019

Randy came by the same day I called... We noticed the dryer was getting slower at drying a full load. Randy made the process easy by explaining everything in detail and left without a spot of dirt or dust anywhere!

Karen Lamport


10/07/2018

Had my dryer vent cleaned, excellent service, Randy called me back soon after I left a message and was able to squeeze me in for a same day appointment which I was greatly appreciative. He arrived on time, was courteous, and knowledgeable of his craft. The dryer works great now cutting drying time down 2/3s. I would recommend California Air Duct Cleaning ( Randy ) to anyone.

Carl


3/21/2018

Randy was very efficient and informative. He did a great job using drop cloths to protect my furniture and floors. And the dryer vent ,he took care of that too!! I highly recommend California Air Duct Cleaning.

Diane Barnett


12/09/2017

Randy does a very thorough job. Quick, efficient and helpful explaining what shape your dryer and vent duct are performing. Ours was totally blocked and we didn't know it. Dodged a bullet. Highly recommend. No hidden costs.

Bill Hollister


12/03/2017

Excellent service. Very knowledgeable and explained everything he was doing. We called California Air Duct Cleaning on a Saturday afternoon when our dryer stopped working due to blocked air flow. Randy answered and said he was pretty busy that day and might not be able to make it. We told him my wife was due to have a baby and we were really going to need our dryer to work and he came right over. We ended up having a tricky problem with 4 different 90 degree turns in our vent as it makes its way through various parts of the house, but Randy got the blockage cleared. He was courteous and professional and, having worked in HVAC for a number of years, really knew his stuff. Will definitely call him again when we need help.

Jeff Westbrook


10/22/2017

Very professional and did a fabulous job cleaning our Dryer Duct work. Very impressed and would recommend to anyone needing work done.

Heather Judd


6/13/2017

I had manage by "doing it myself" to clog up a dryer vent. Called California Air Duct Cleaning from Roseville, Ca, and Randy came to got it all back in order quickly. Really friendly and a pleasure to do business with. He had all the right tools and equipment and was done in short order. Highly recommend for dryer vent cleaning. He services the Auburn, Ca area where I live.

John Clausen


1/31/2017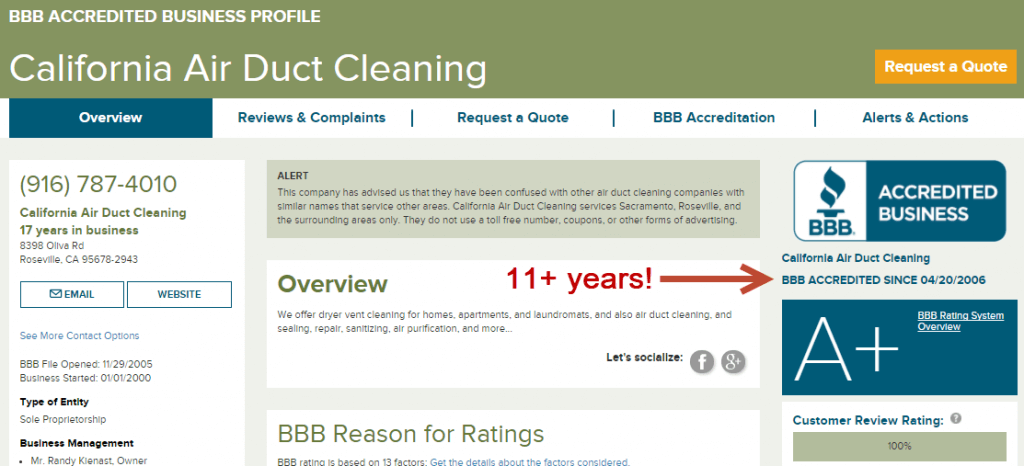 Fill out this free quote form, or call me today. If you miss me, please leave a message and I'll get right back to you.